Homeless in Tokyo

Currently I am interested in homeless people and their informal housings in urban space.
And I found that
KYOHEI SAKAGUCHI has interesting works related to this topic in Tokyo.
Amazing! If you are also interested in, please check this guy's website. :)
http://www.0yenhouse.com/en/index.html
http://www.0yenhouse.com/en/The_Way_of_Zero_Yen_Life/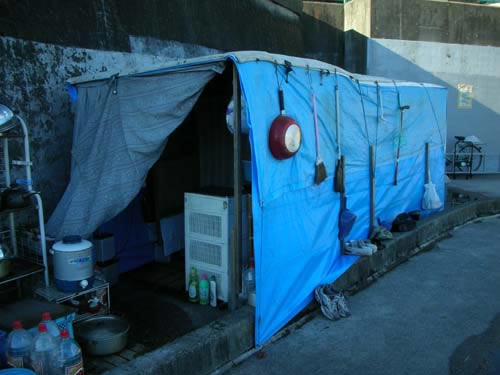 From his introduction:

"There are many zero yen houses on the riverside in Tokyo.The river is called "the Sumida river".The river is the centre of Tokyo. Here is close to some laborer company and Asakusa(they can be comfortable). So many people gathered round the river. I reserched in Zero Yen House on the river side. Then I met a grear man. He lives here for zero yen for 9 years.
His name is Mr.Suzuki. He lives with a woman. Her name is Mi-chan. They have lived together for 8 years. They live in a zero yen house on the river side. Of course They don't have their address. But I don't call them "homeless". Because They have a house. I rent a house now and don't have a house. In that sense, I may be a homeless. From that viewpoint, I think they are very smart."